In 2020 it's considerably more than fifty years ago that Sergeant Pepper taught his titular band to play and it's been more than twenty since a generation of bands and musicians were inspired to take up their instruments following the 1980's by Lennon and McCartney's band call to arms .
The Early 1980's saw a volcanic hotch potch of creative energy hubbling and bubbling in Bournemouth as a variety of live music venues sought to provide the young wannabees with a platform for their talents. However beneath the red hot strata of clubs and pubs like Upstairs at Erics, Midnight Express, The Third Side, Glasshoppers, The Moat House, The Pinecliff & The Academy lay the musical bedrock that was nurturing the dreams and aspirations of the new breed of songsmiths into a hardcore vinyl reality.
That bedrock was a claustrophobic underground recording studio in Norwich Road at the back of the Triangle called 'Misty Studios'. To set the scene we need to turn the clock back another 5 years to 1974 , the year the Bees Gees released Jive Talking, two years before Night Fever would set the world alight with a Disco Inferno that still reverberates to this day. That was the year that destiny (cunningly disguised as 'Manpower') brought together two intensely ambitious writers to stack sheet metal at the Devilbiss paint equipment manufacturing plant at Ringwood Road. The rest as they say is Rock & Roll history and it went something like this ....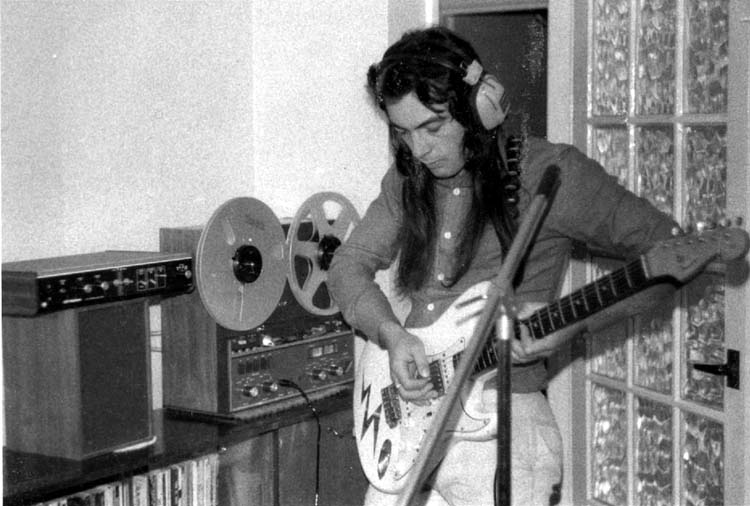 1974 - Mark Eden and Micky Fudge form a duo called 'Cherish' and start recording demos of their songs on a 2 track Revox tape recorder in Mark's shed at the bottom of his garden before making their debut at Christmas variety show at the Maison Royale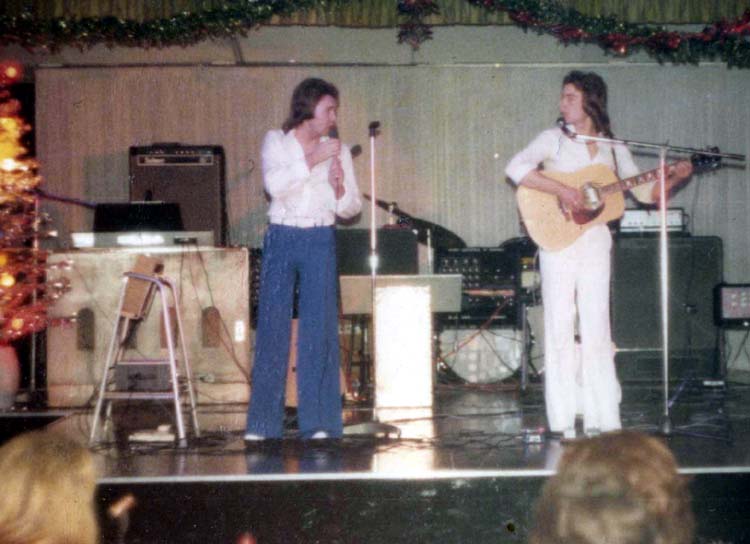 March 1976 - With the addition of John Lee (ex Edison Lighthouse) , an old school friend of Micky's on bass , Dick 'Fingers' Shutler on keyboards and Rick Parsons on drums 'Cherish' takes inspiration from the Clint Eastwood movie and change their name to 'Misty' and head off to tour the American airbases in Germany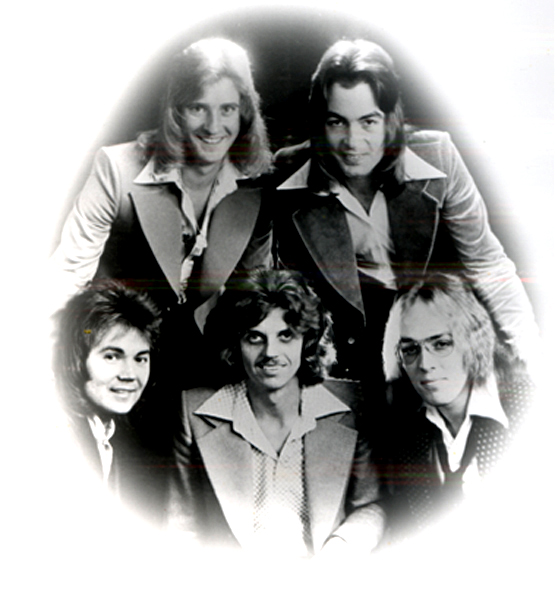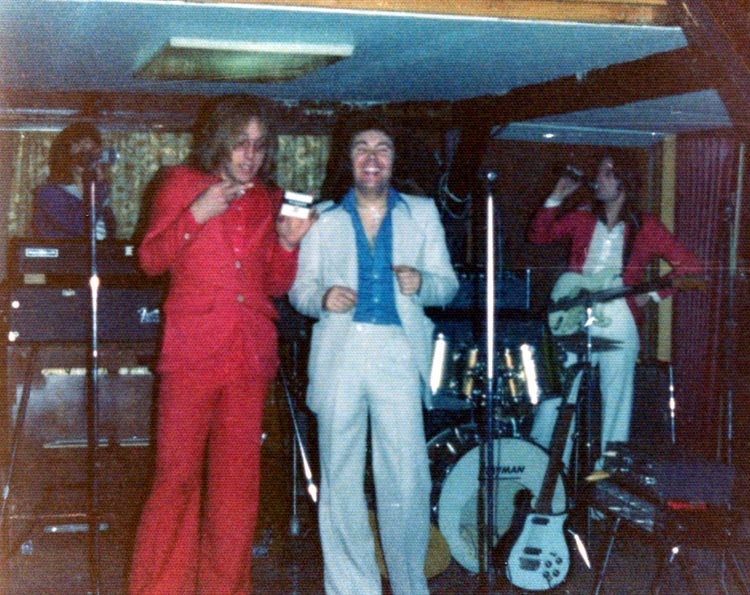 1976 Somewhere in Germany ~ Note Micky's 12 string Rickenbacker worth around £2500 today (if he'd kept it) and my 1970's strat probably worth about the same but used as part payment to Alistair for building the studio when I ran out of cash :~(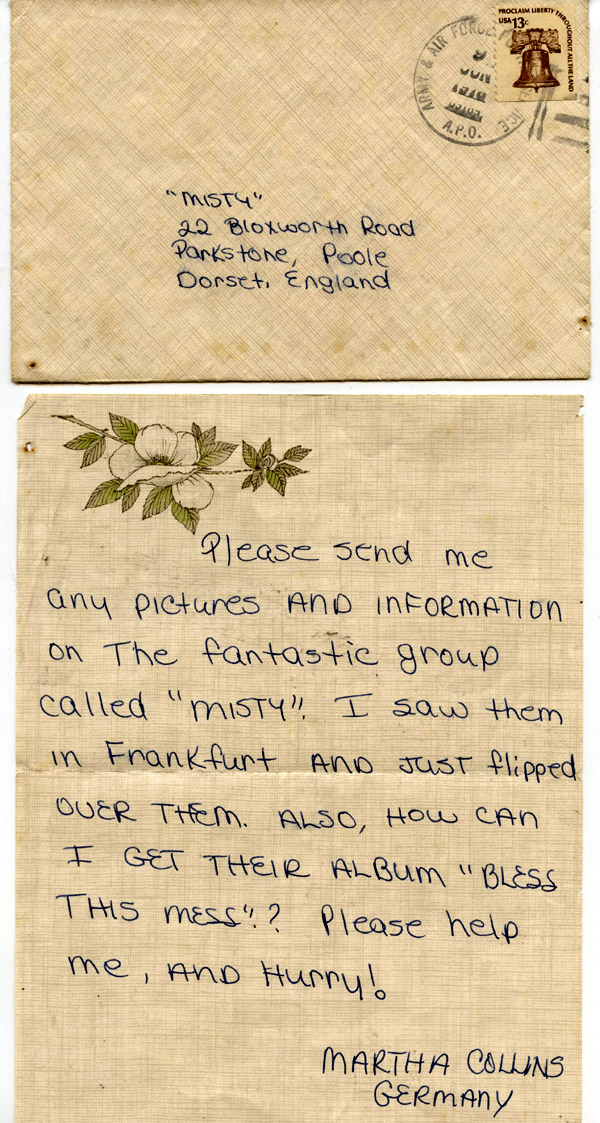 Misty 'Fan Mail ' ~ Note the urgency in the communiqué (No internet then of course !)
This was the true test of fandom ~ putting pen to paper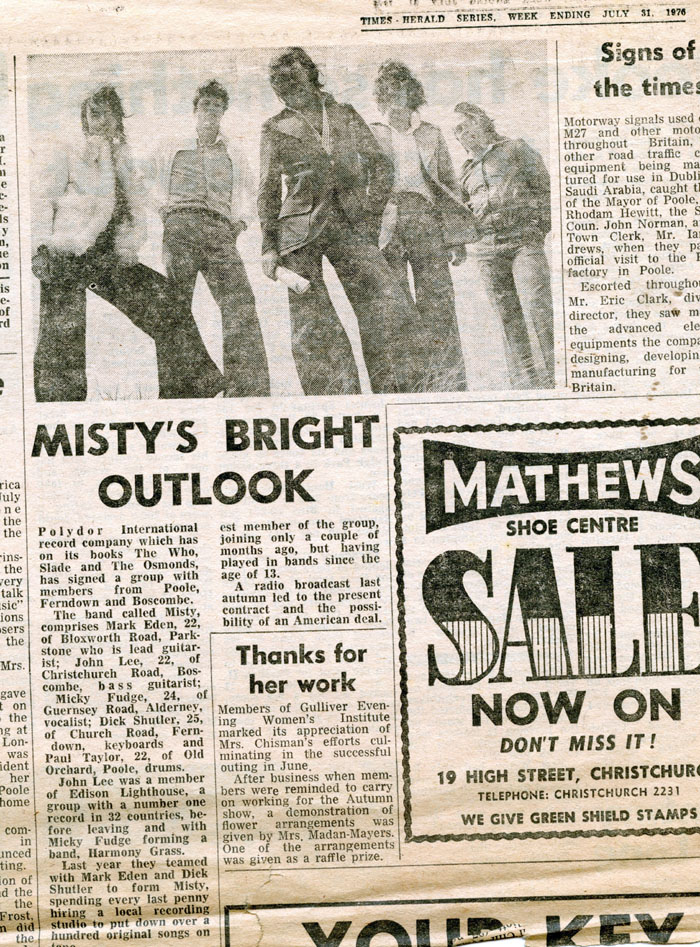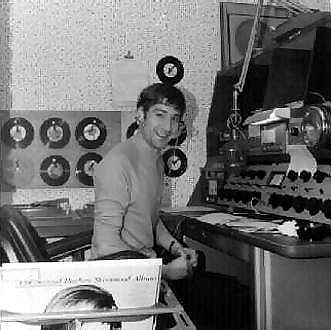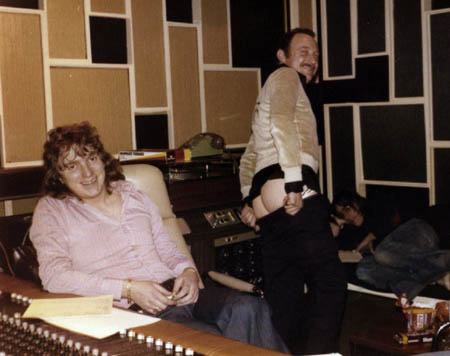 pics : Alan Black (top) who died in 2007 and (below) a rare glimpse of Misty Manager Don ' Cheeky Boy' Hurley
In their absence manager DON HURLEY negotiates and signs band (minus drummer & keyboard player) to Polydor Records and WEA publishing off the back of demo tape sent to Alan Black ~ head of Polydor A&R and BBC Radio 1 DJ . Band receive £4000 advance from Polydor and a further advance from WEA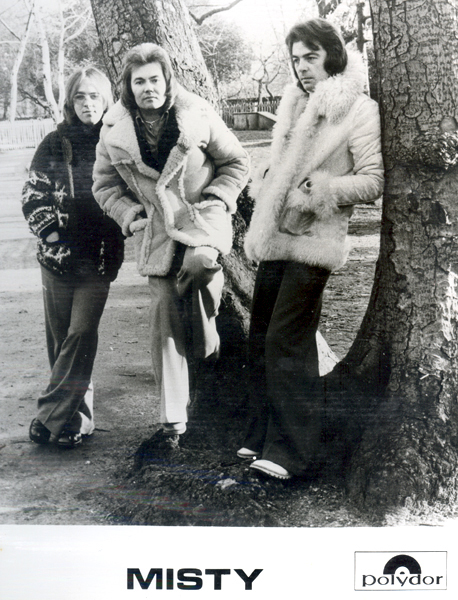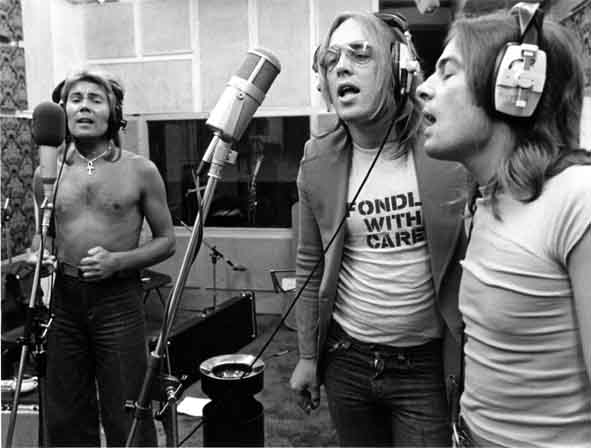 August 1976 ~ Sessions with Producer Chris Rainbow ('Give me what I cry for' fame) are rejected by Polydor.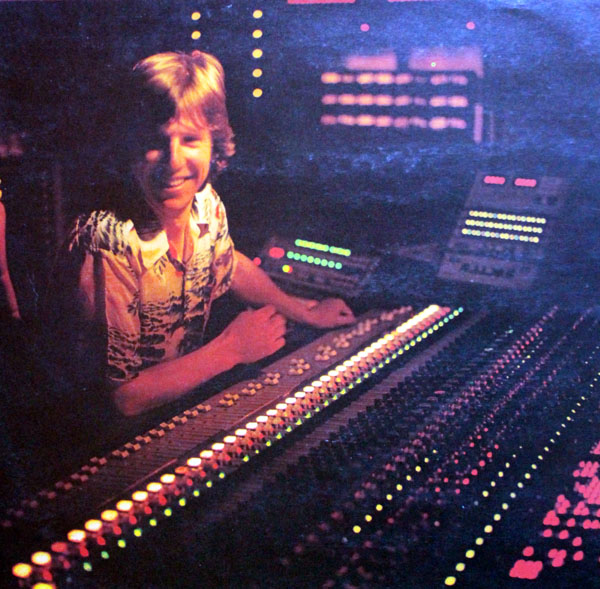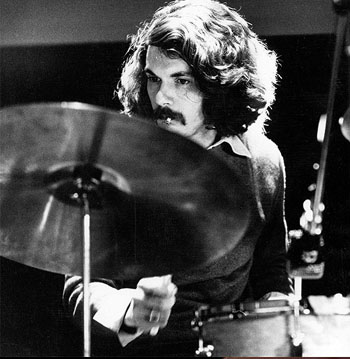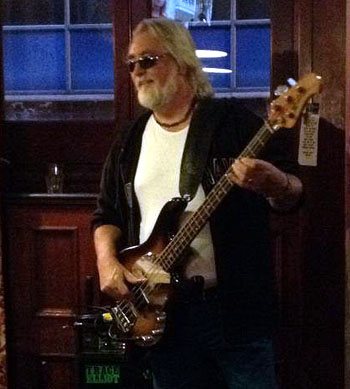 1976 - 'Misty' subsequently spend a month at Richard Branson's newly opened Manor Studios in Oxfordshire (the first 'residential' studio in Europe) with Producer and Arranger Pip Williams (Kiki Dee, Moody Blues, Status Quo) recording a stunning album featuring a 30 piece orchestra. Pip opts to utilise his own studio rhythm section comprising drummer Mike Giles (King Crimson) and bass player Dave Markee (session bass player for Rolling Stones, The Who and Eric Clapton's live band 1979 -1982) .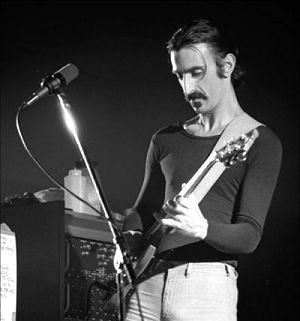 INTERESTING FACTOID ~ During our stay at Richard's stately pile he joined us for dinner one evening with none other than FRANK ZAPPA. Richard was trying to persuade Frank to produce an act called THE LIVERPOOL SCENE ~ A John Peel favourite that went on to release four LPs, combining poetry with a range of musical styles and incorporating folk, rock and jazz elements . After we ate together Frank sat cross legged on the floor of the TV room watching a VHS tape of the band performing live. If only the ability to take 'selfies' had existed then we could have dined out on the story for decades.... As it is you'll just have to take our word for it !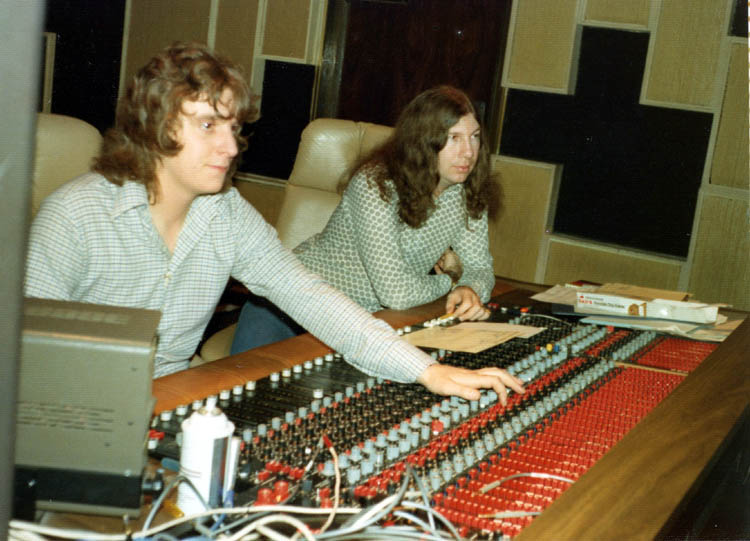 Pip Williams and engineer John Eden (no relation)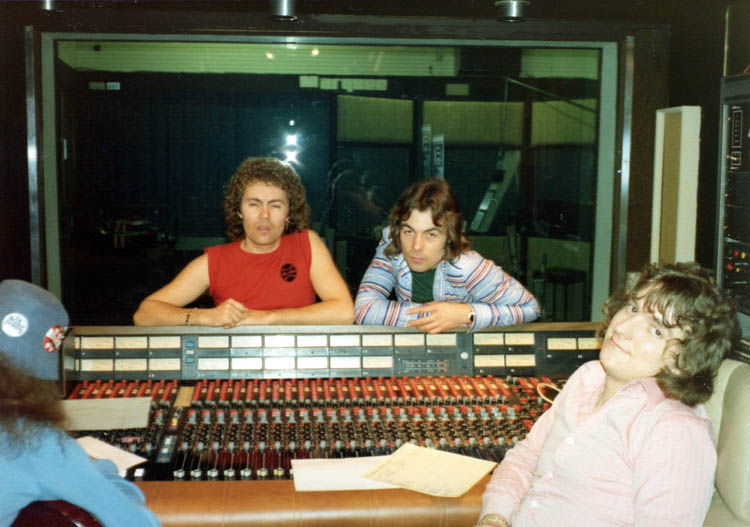 1977 - Polydor release three vinyl 7" singles by 'Misty' - two from the album ~ 'Someday' b/w 'Shy Girl' and 'Magic Spell' b/w 'Make Your Mind Up' plus an 'Abba-esque' cover version of the old 60's hit 'Jesamine' by the Casuals (b/w 'That's no Way') ,produced by Kaplan Kaye in an attempt to present something ''familiar' to a reluctant record buying public when the first two singles do nothing despite some Radio 1 airplay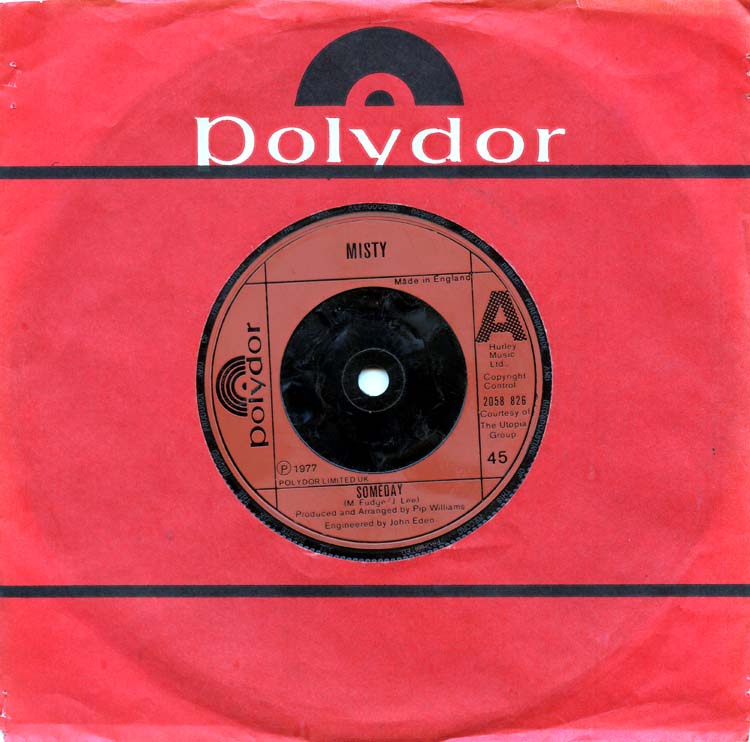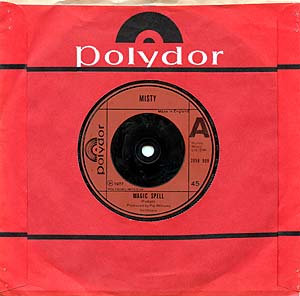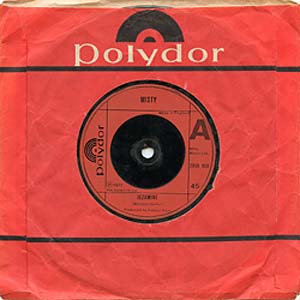 1979 - As punk/new wave continues to dominate the airwaves Polydor stable mates 'the Jam' proceed to have over twenty top 10 singles. Conversely Polydor drop 'Misty' without ever releasing the album. A classic case of right place - wrong time. We wuz robbed.
Scroll the Misty Studio Jukebox to listen to 5 x tracks by the band MISTY