7EVEN comprised Paul Chambers (vocals) , Alan Lockett (guitar) Stephen Geoffs (bass) Mike Barnes (drums).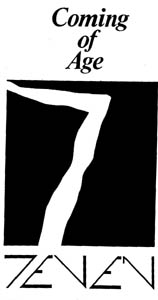 (SORRY NO PHOTO ON FILE)
Not to be confused with the band 'Seven' this predominantly studio orientated band took U2 as their main source of sonic inspiration but Paul's gothic vocal style took them to somewhere they could call their own. Recorded dozens of songs at Misty studios under the direction of band guru Mick Harber with Mick and Alan sharing the production credits under the moniker 'The Dangerous Brothers'. Hugely image and brand conscious meticulous care was taken over creative artwork and packaging of tapes under the artistic guidance of Stephen Palfrey prior to dispatching to A&R departments of the various record labels .
WHERE ARE THEY NOW ? CONTACT US .