Other Major Contributors to local music scene
MICK HARBER (Manager of Setchfields record shop in Bournemouth and co-managed Upstairs at Erics with Mike Parker as well as masterminding the band 7even)

WHERE ARE THEY NOW ? CONTACT US .
COASTER MAGAZINE inc. Harriet Jones, Jules Kenyon, Trevann Fanthorpe, Ledger de la Bald, Roger Eede and Photographer Andy Mills without whom the 'Eighties' music scene in Bournemouth simply would not have existed ! . Read more about COASTER MAGAZINE on Gavin Underhill's website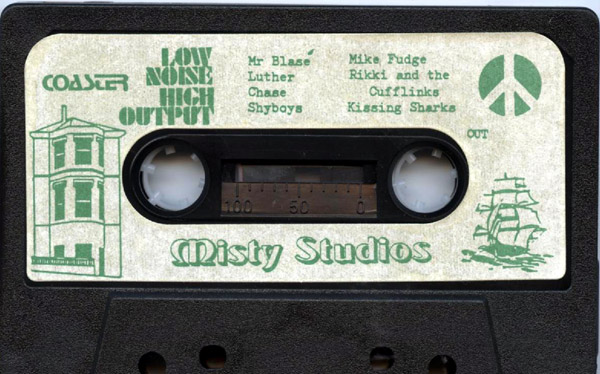 Pic : The Misty Studio / Coaster compilations sampler cassette
Nick Churchill ~ Copy writer for the Bournemouth Evening Echo in the 80's on all things music and more still a freelance scribe after all these years still contributes regular articles to Dorset Life magazine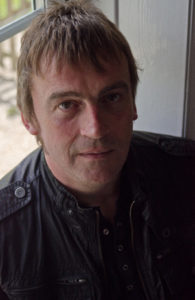 READ MORE AT https://www.nickchurchill.org.uk/

Tony Arnold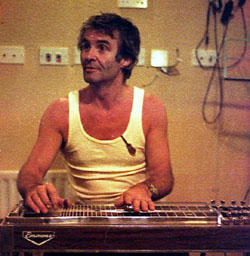 Proprietor of 'Arnie's Shack' studio in Parkstone. Many of Misty (the band) 8 track demos were recorded at the old Apollo Close site (yes the one in Tony's garage) prior to securing the Polydor record deal and prior to Tony relocating to the Penn Hill 'Sausage Factory' where the likes of Andy Summers and Robert Fripp would subsequently record and remaster back catalogue. Tony Arnold relocated to France many years ago but died around August 2018.
There's a fabulous story on Nick Churchills website about how the Animals first heard and learned their legendary hit 'House of the Rising Sun' from Tony Arnold following a gig at the Bure Club in Mudeford. Not many people know that...
WHERE ARE THEY NOW ? Tony Arnold relocated to France many years ago. Died around August 2018.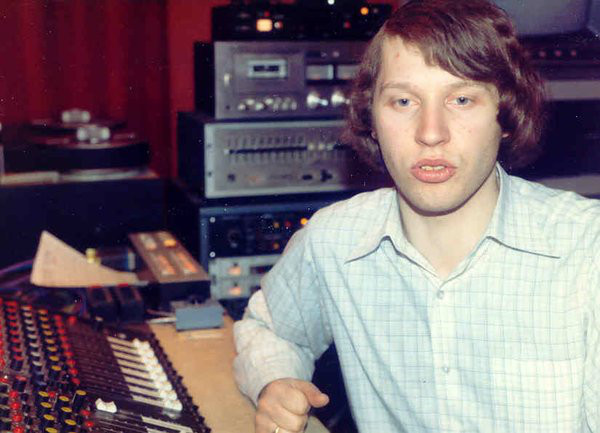 David Le Neve Foster ~ Resident BBC trained engineer & producer at the 'Music Room' studio in Canford Cliffs (his Mum's living room) ~ also freelanced as engineer for Mark Eden at Misty in the 24 track era
WHERE ARE THEY NOW ? CONTACT US .
Studio 95 ~ Run by Chas & CLaudette Evans and rapidly latterly expanded from 4 to a 16 track studio . Claudette's website features a music clip from Danze Frakcha with synth contributed by none other than Gavin Underhill !
Don Strike Music, Westbourne Arcade. Bournemouth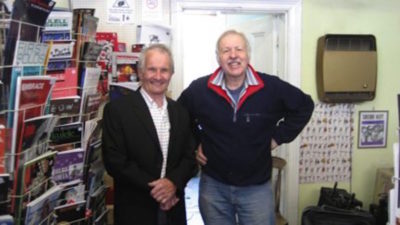 Pic : Tony Arnold & Bev Strike




Don's son Bev outside the shop
In the illustrious company of Robert Fripp & Greg Lake I (Mark Eden) took guitar lessons from Don Strike in the Sixties and I remember Don's wife Renee and son Bev (who both continued to manage the shop after Don's death) with great affection. INTERVIEW WITH ROBERT FRIPP WHERE HE MENTIONS HIS 'MUSIC' TEACHER DON STRIKE. Founded in 1920 the 'Don Strike Music Emporium' is still open astoundingly and run by Bev's son (Don's grandson). Now that's what you call a family business.
SEE 'MY FIRST AXE' ~ Purchased from the Don Strike Emporium in 1961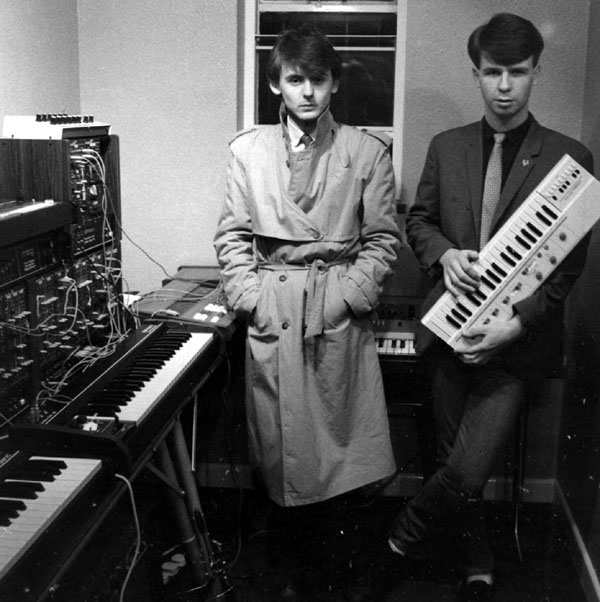 Eddie Moors Music Boscombe ~ Run by Eddie Moors Snr and latterly by Eddie Moors Jnr (himself a keyboard and synth guru) . Eddie Jr. was exceedingly supportive of Misty Studio and once extended interest free credit on a £1000 string synth purchased for the studio (a Korg) on condition I repaid the debt at £100 per month. The shop was at the forefront of selling keyboards and synths . A real Gentleman, Eddie Moors Jr. recorded at Misty Studio with Marc Long under the pseudonym 'Camera 35'. First incorporated in 1961 the Eddie Moors Music shop finally ceased trading in 2009 but ....
WHERE ARE EDDIE & MARC NOW ? CONTACT US .