TALKIES / COSMETICS - comprised Richard Mazda (vocals & sax) Ebo (bass), Pat Davey (bass) Steve Laurie (drums)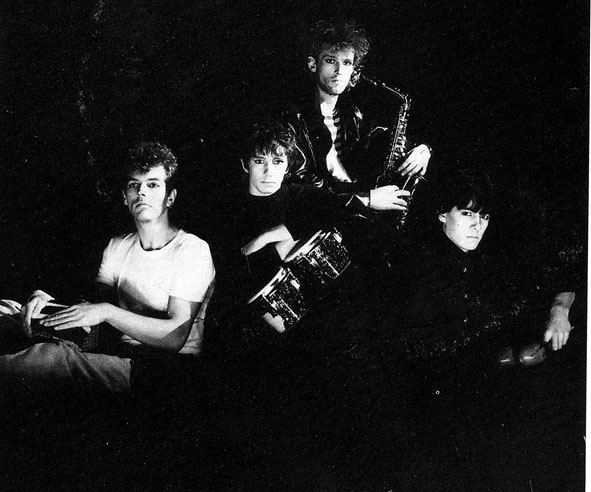 1978 - A poshly spoken Richard Hall-Smith sets foot in Misty Studio for the first time a little wet behind the ears and promptly re-invents himself as Richard Mazda to 'cash in' on punk boom and thus forms THE TALKIES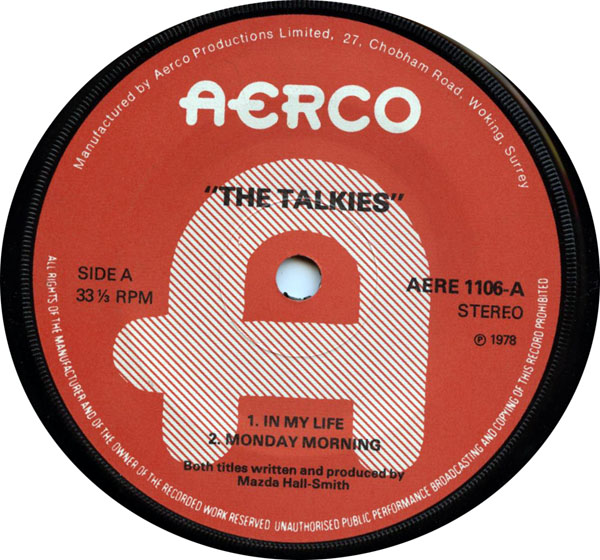 Produces , presses and releases four track EP of Misty results ~ Tracks include 'In my Life', 'Monday Morning', 'Newsboy' & 'Give it back to him'.
Scroll the Misty Studio Jukebox to listen to the Talkies EP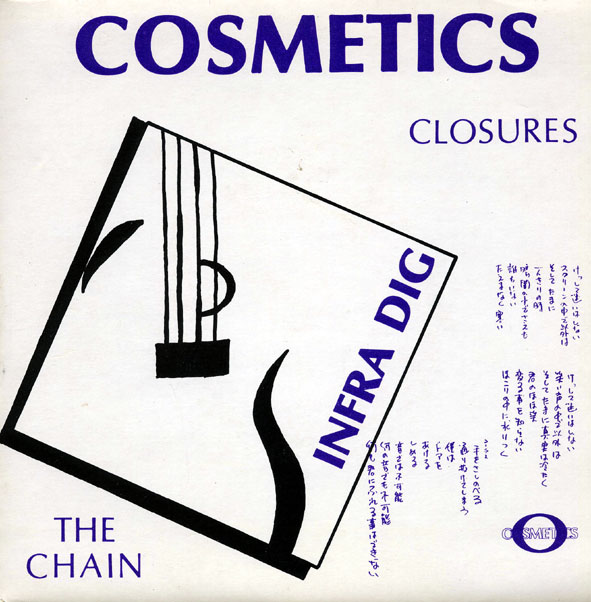 1981 - In a bizarre attempts to go one step beyond the two drummer line up of the Glitter band Richard has the unique concept of forming a new band with two bass players. THE COSMETICS release a double A side single recorded at Dave Fosters 'Music Room' studio. The Mazda produced tracks are 'Closures' and 'The Chain'. Songs are heavily influenced by early left field Bowie and but unfortunately sound distinctly like a grammar school boy with spiky hair trying to upset his neighbours after his first lesson on saxophone.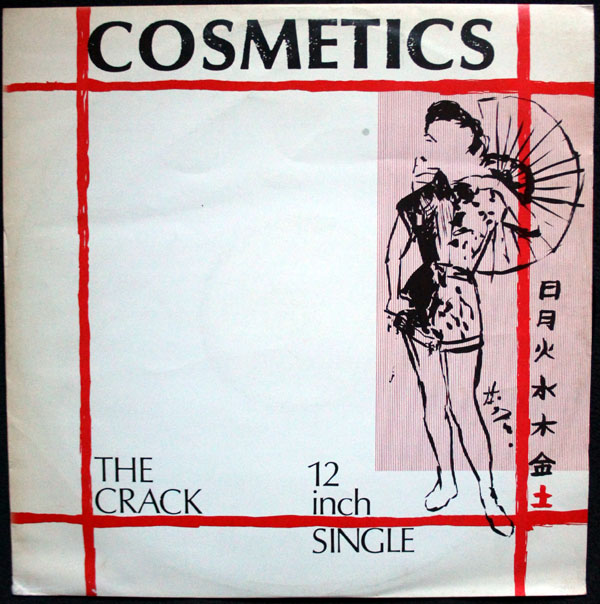 1982 - Mazda secures a record deal with 'The Police' Manager Miles Copeland's Illegal Records label who release 'The Crack' b/w 'Calligraphy' featuring Marsha Hunt on 'guest vocals'. The band are recruited as Tom Robinson's backing band when 'Sector 27' fall apart and tour Japan and Portugal.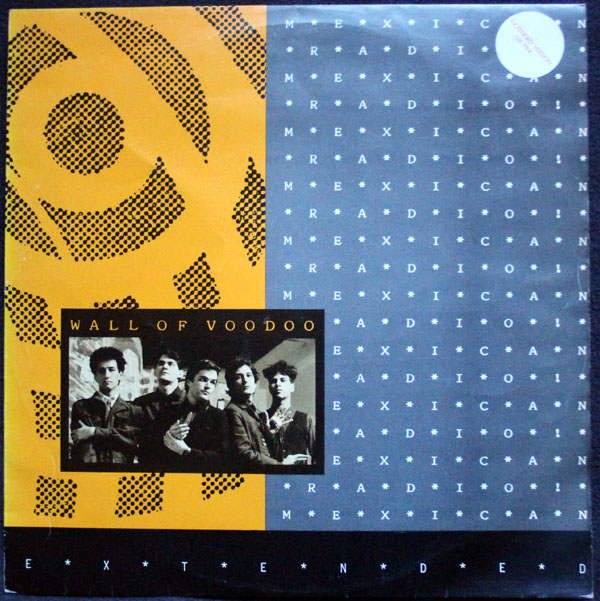 As a result Mazda achieves a degree of notoriety and chart success as producer of both Tom Robinson and American band 'Wall of Voodoo' in addition to co-ordinating independent film music projects. The Cosmetics released further single(s) including 'Last week , This week' (on IRS Records in 1984).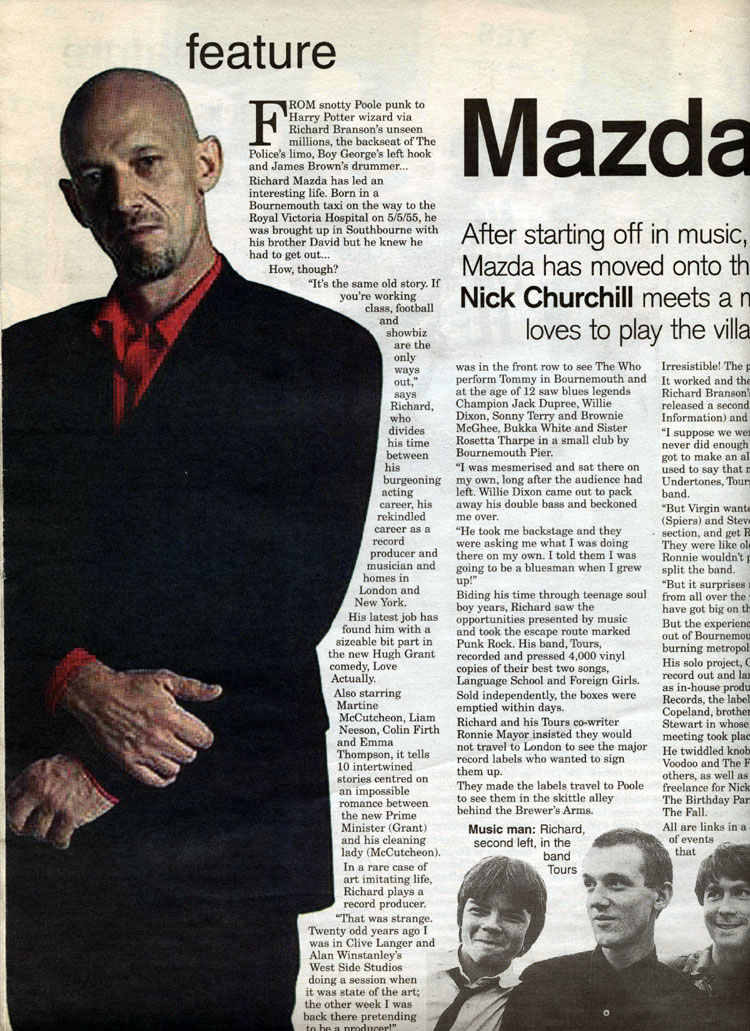 WHERE ARE THEY NOW ? ~ In an interview with Nick Churchill in 2003 Mazda gives an insight into his collaboration with Ronnie Mayor in Tours and an lengthy insight into his musical career as an in-house producer at IRS records (the label run by Miles Copeland , brother of Police drummer Stewart Copeland , penning a US R&B #1 for 'Ultra Nate' and a successful parallel acting career including a bit part in 'Love actually' (starring Hugh Grant) and appearances in a number of 'Hollywood Movies' . Whilst not exactly a household name Mazda alludes to 'living in mansion in L.A.' (?). Perhaps you could zap a photo of your L.A. pad over the Interweb Richard via our CONTACT US page if only to inspire young impressionable musicians still living in Bournemouth that they do have career prospects beyond 'hotels or catering' so encouraging them to aspire to 'stay true' to themselves as you have. One gets the sense that Richard has, to coin a phrase always been slightly 'Up his own Arse' ... but to his enduring credit he knows it ! . Not bad though for a dodgy sax player from Southbourne. Mazda states in closing his interview with Nick Churchill that '(Bournemouth) will always be a special place for me but I'm glad I got out'. ... and we'll always have one for you too Richard. Read more unadulterated self congratulatory nonsense on the Richard Mazda Wikepedia Page .