MUSIC BLESSED BY THE HAND OF GOD ANYONE ?
A Musical Pilgrimage 25 Years in the making
In 1983 when Mike Butcher perpetrated his infamous 'You'll never take me alive copper' moment and endeavoured to outrun a panda car attempting to pull him over on account of the shit load of drugs he was muleing across county lines in his beat up old VW (just prior to hitting the roadblock the police set up for him a little further on down the road) he was subsequently incarcerated for his misdemeanours at her Madge's pleasure in Dorchester prison. All of which left John Lee and I in a bit of TizWaz given Prima Voice (formerly the aptly named Accused) had been booked by Chris 'Fergie' Ferguson into a residency in an 'Alternative' night club in South Africa for 3 months and found themselves as a result with no keyboard player. An ad was quickly booked in the trusty Melody Maker classifieds and as if by divine intervention a guy named Mike Bienvenu responded. At the time he was resident pianist at the other Dorchester (i.e. the one in Park Lane , London) entertaining guests nightly on the grand piano in the hotel foyer. We had no idea of his classical credentials till we got him in the studio and wondered if we inadvertently collected Beethoven from the train station but for all his impeccable classical credentials Mick also loved 'contemporary' music … and it didn't get much more 'contemporary' at the time than Prima Voice.


PRIMA VOICE (Mike Bienvenu ~ far left)
On their return from South Africa Prima Voice inevitably imploded so lets fast forward a few months to 125 kilometers north-north-east of Bangalore and 'Prasanthi Nilayam' ~ The main Sathya Sai Baba ashram located in Puttaparthi .....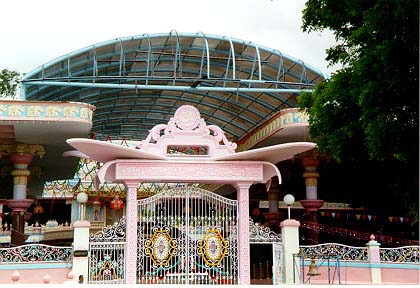 ...... and Mick working desperately hard to save money in order to visit and study Sai Baba's teachings. His current money spinner is tinkling the ivories at the Silom Holiday Inn Bangkok.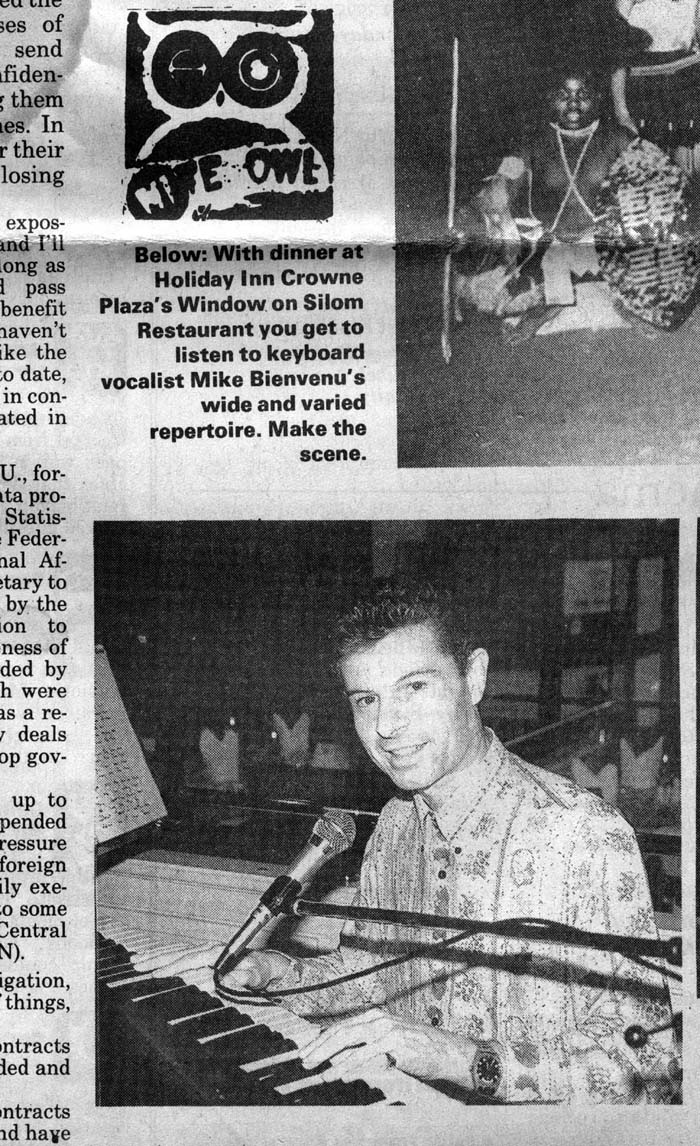 The Bangkok Post ~ Saturday August 11, 1994
You will doubtless recall the 'Fab Three' re-uniting in 1995 to finish Lennon's Dakota building cassette demos of 'Free as a bird / Real Love' ~ 17 years after they were first recorded in 1977. The result was 'The Beatles' (almost) but not as we knew them thanks unfortunately to one Mr J. Lynne who seems to revel in his utilisation of the worst snare sound in the known studio world . Slightly prior to that in 1994 an audio cassette likewise arrived in the post at 'Chez Misty' from Thailand. Mick wanted me to hear the compositions he had recorded on an Akai work station he had purchased. For him it was a means of releasing a reservoir of pent up musical creativity inspired both by his extensive travels in the far east and his devotion for Sathya Sai Baba.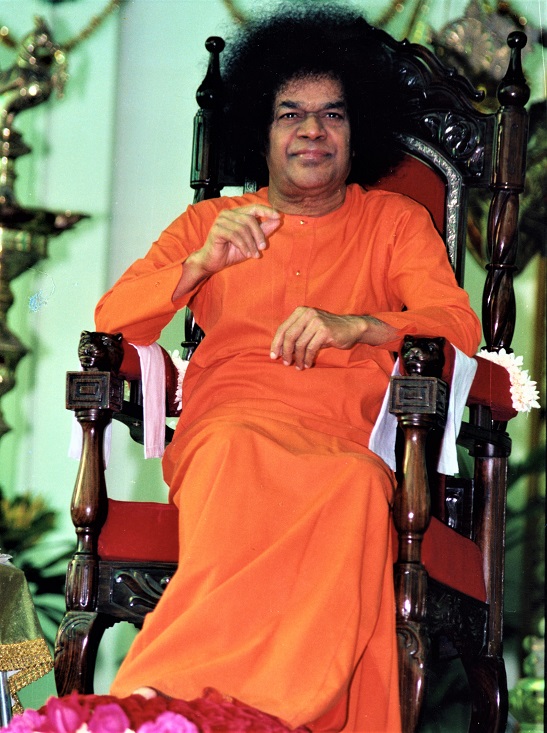 For those who are unfamiliar (which will probably be all of you) Sathya Sai Baba was an Indian guru and philanthropist who at the age of fourteen claimed that he was the reincarnation of Shirdi Sai Baba,and left his home in order to serve the society and be an example to his followers. Sai Baba's purported materialisations of vibhuti (holy ash) and other small objects such as rings, necklaces, and watches, along with reports of miraculous healings, resurrections, clairvoyance, bilocation (the supposed phenomenon of being in two places simultaneously), and alleged omnipotence and omniscience, were a source of both fame and controversy and his devotees believed them to be signs of his divinity and the Sathya Sai Organisation, founded by Sathya Sai Baba has over 1,200 Sathya Sai Centres (branches) in 126 countries. Through this organisation, Sathya Sai Baba established a network of free super speciality and general hospitals, clinics, drinking water projects, a university, auditoriums, ashrams and schools. Certainly Mick had no doubt whatsoever that Sai Baba was 'God' and sent the photo below which was literally the size of a thumb nail .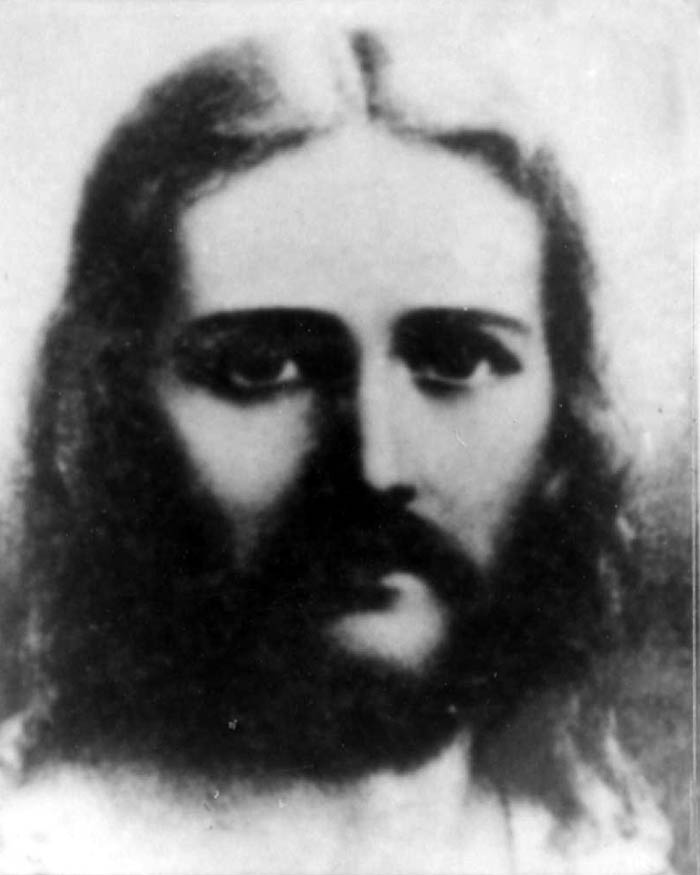 'Jesus (or ISA as he was known). The picture is a materialised image of Jesus (not a painting or drawing). The picture was materialised by Sai Baba from a blank piece of paper for a devotee in India. The original is now in Glastonbury , England'.
Sathya Sai baba also known as Puttaparthi Saibaba "India's first international guru" died in 2011. He did not appoint anybody as his successor. However Madhusudhan Naidu of Muddenahalli now claims that he is the successor of Sai baba. Inevitably there are those who dismiss Sai Baba as a Charlatan and a con man but according to Wikipedia the number of 'adherents' (i.e. followers who believe(d) Sathya Sai baba was 'God') is currently estimated at somewhere between 6-100 million !
https://en.wikipedia.org/wiki/Sathya_Sai_Baba_movement
The cassette tape I received was accompanied by a lengthy handwritten pen and ink letter in Mick's characteristic sweeping calligraphic style. Not only did he explain the inspiration behind each of the 10 pieces of music but also that whilst on the ashram he had wrapped a cassette copy of his compositions in a new white handkerchief and Sai Baba (God) had blessed it.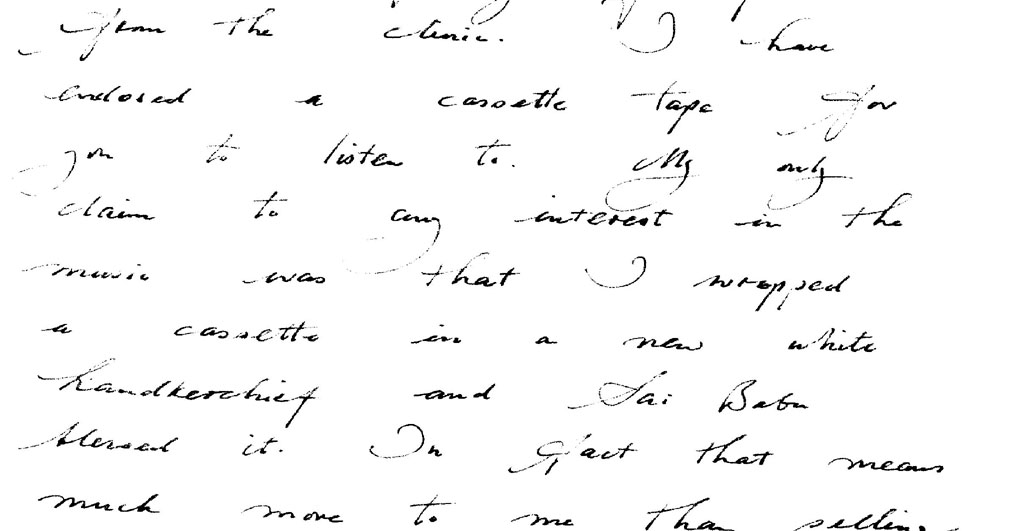 Mick had already 'produced' the tracks as best he could with the equipment at his disposal and I vowed that one day I would endeavour to further 'enhance' the music with contributions of my own. It's taken several decades for home recording technology to facilitate such an undertaking in a way that would do the music justice and over the past year I have putting together an entry level digital workstation based around a 16 channel Presonus mixer interfaced with Studio 1 software but also incorporating (for simplicity and speed) the new Tascam Model 24 digital multi track recorder augmented with traditional rack mount outboard gear like dbx compressors and Lexicon reverb etc.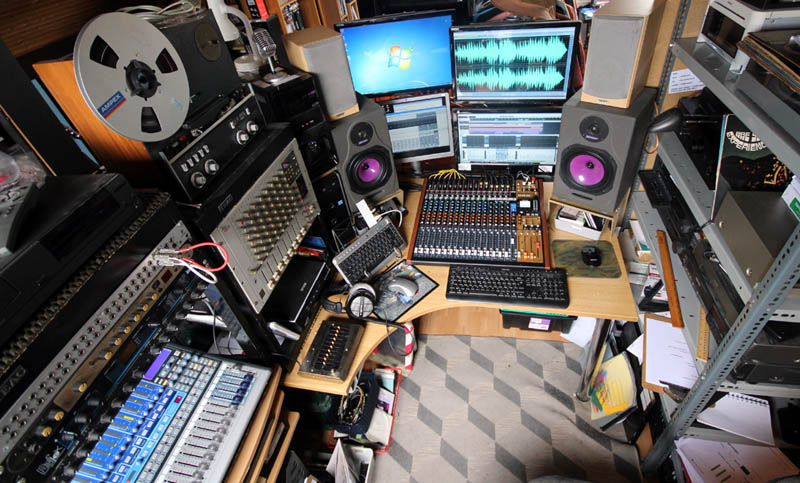 I've nicknamed this the 'East Meets West' project because initially I intend overlaying my own textured guitar parts utilising a Positive Grid Spark amp and my favourite Electro Harmonix emulator pedals (sitar etc) . Loosely speaking the music might be categorised as 'New Age' meets 'Classical' and certainly won't be to everyone's taste especially if you like your rock n soul 4 to the bar ~ but for me of course that's the challenge. An old dog learning new (recording) tricks but more to the point a rare opportunity to try and 'enhance' a body of music that is light years out of my comfort zone . Mick and I collaborated extensively until his tragic premature death in 1997 aged 44 from lung cancer . The cruel irony of which was was that he had never smoked ~ but years of playing and singing in smoky bars in Bangkok to finance his extended visits on the ashram eventually took their deadly toll and he was forced to return to England for chemotherapy .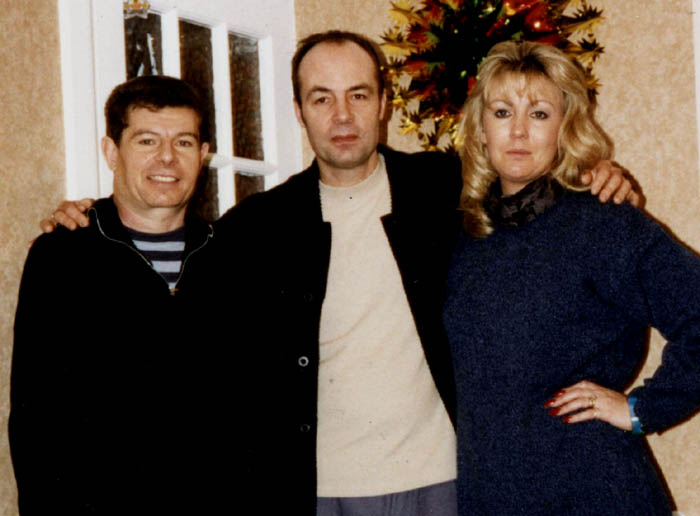 Lorraine and I visited Mick many times during his stay in hospital in London and brought him to our house from the hospice at Netley Castle to spend his final Christmas before he finally returned to Guernsey to die. Following his cremation we had a lovely letter from his parents and they gave me his leather writing wallet as something to remember him by. I recently revisited the wallet to re-read the many letters & Sai Baba magazines he sent me during his travels I was shocked to realise that it was almost 25 years since he had died and that if I didn't start fulfilling the promise I made to myself to try and contribute a tiny part of me to his legacy it might well be too late for me too.

If you're still reading and fell suitably intrigued you are cordially invited to take a listen to short extracts from each of the 10 compositions in the 'East Meets West' project folder on the Misty Jukebox below and as I'll publish updates on whatever track I am working on and invite relevant contributions from those who register an interest in participating . PLEASE NOTE ~ most if not all of the tracks are MULTIPLE MOVEMENTS and the tracks are up to 7 minutes long so the 'extracts' in the jukebox are only intended to give a flavour of the piece in question . It's down to personal taste whether you feel any affinity towards Mick's compositions but I guarantee they are unlike anything you will ever have encountered or been involved with musically before . I hesitate to use the word 'Genius' but Mick was most assuredly a musical prodigy and I'm hoping that as I work my way through the 10 pieces that some of you out there in the Misty Cosmos may feel inclined to collaborate with me and contribute where your particular gift would benefit musically ~ not only to help commemorate a brother in arms who was taken so tragically young but also (depending upon your spiritual belief system) so you can tell your grand kids that you were once part of a music project that had literally been blessed by the hand of God ... Comments and feedback most welcome please >>>